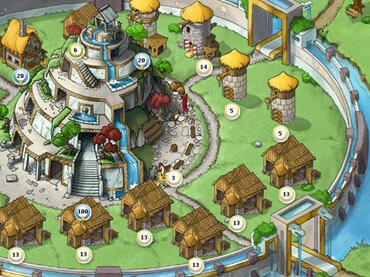 Travian: Legends
Travian: Legends is a browser-based, MMO time management game where you build, defend, and attack ancient cities using strategy and diplomacy!
4.1
Votes:

63
Your rated:

4
Download
Screenshots
Description
Travian: Legends is an online browser game from Travian Games based on the Travian universe. Set in classical antiquity, Travian: Legends is a mix of city building and time management game.
The player will start the adventure as a humble tribe and gather resources to develop a small village and ultimately take it to war against the enemy troop. Your choice of tribe also impacts your initial game bonuses as you gather resources to build a large array of building options.
As you build structures like farms, clay pits, and iron mines, you gather resources over time, which you use to build new buildings and upgrade existing ones.
After you have established your new village, you can explore the world map and explore nearby tactical locations. You can take over undeveloped resource fields that provide valuable resources for your tribe.
Alliances are also an important aspect of the game! You can join together with other real players to team up, provide defense against enemies, and ultimately come together to try and build the world wonder - an immense tower that is built during the end-game of Travian: Legends!
New Travian servers are starting up on a regular basis - this is the best time to join as a new player. Travian Games GmbH has created a masterpiece of an MMO that continues to evolve. Try and build your Travian: Legends today!
Features
Easy to learn, hard to master
Addictive build and raid war game
Brand new graphical interface
Vast strategy and pure multiplayer game
Available in over 40 languages
Download free PC game and start playing now!
Popularity
229 Downloads
System Requirements
Size: 1 Mb
Windows 98/XP/Vista/7/8/10
Game removal through the Windows Control Panel
Licensing Information
All games provided at this web-site were licensed, sublicensed to us for distribution by other game developers, game publishers or developed by internal game studio and provided free legally.
If you have any questions about this game, please contact us using this form.
Best Games
See More
Our Best 10...