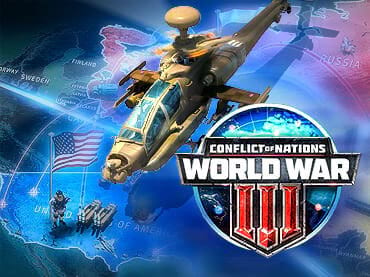 Conflict of Nations: World War 3
Conflict of Nations: WWIII is an exciting real-time military strategy game with gameplay that fields modern battle technology. Much like Epic Games' Fortnite battle royale game, this game is a race against other players to develop your character and troops to prevail!
4.1
Votes:

63
Your rated:

4
Download
Screenshots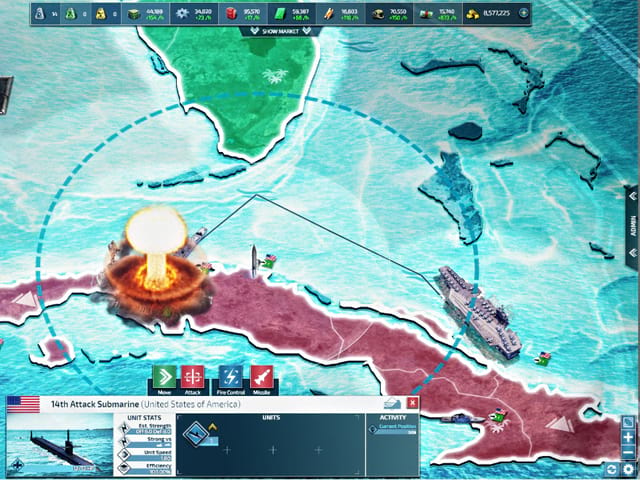 Description
Set in the early 21st century, pit against other players for world domination. Move your army in real time to complete mission goals. Carefully manage your economic and technological efficiency to have an edge over your opponents.
Features
Real Time Tactical Combat System
Very deep level of strategic planning and tactical execution
Over 100 beautifully modeled Modern Weapon Systems
Extensive Military Research Tree for your units
Resources and logistics are as important as combat tactics
Beautiful Isometric World Map
Refined Player Alliance System
Review of Conflict of Nations: World War 3
When playing this modern global warfare game, you need to expect long battles. We are talking about real long term battles that could last for weeks because there can be over 100 players coordinating attacks or defense cooperatively for territorial control (and for more points), and also because each move takes a long time to do and complete. This is precisely why planning is important in this game due to how realistic troops move from countries to countries. Just like in real life, each country is good at producing more of certain resources and the trade or economical development aspect is not to be ignored. You need them, otherwise, your buildings or armies will be weaker in terms of efficiency, power & speed due to lower upgrades.
Gold is also king in this game just like in real life. With gold, troop morale could be boosted and your time or clock can be sped up. This in turn boosts your productivity due to lower riots or uprising or just simply by the fact that you essentially bought time. Gold happens to be replenishable with real money and this undoubtedly gives paying players some benefits. But remember that in this game, you are in control of everything from military expansion, economical development, technological research and diplomacy. This means there are many areas you can outsmart your opponents other than gold. Last but not least, considering the fact that this is a long term strategy game, one good thing is that you can continue your progress and play this game on PC or mobile, and we will share details on that later.
Popularity
395 Downloads
System Requirements
Size: 2 Mb
Windows 98/XP/Vista/7/8/10
Game removal through the Windows Control Panel
Licensing Information
All games provided at this web-site were licensed, sublicensed to us for distribution by other game developers, game publishers or developed by internal game studio and provided free legally.
If you have any questions about this game, please contact us using this form.
Best Games
See More
Our Best 10...